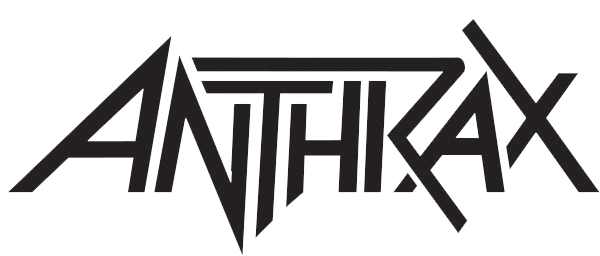 ANTHRAX JOINS FORCES WITH PUCK HCKY
FOR NEW, HIGH-END, HOCKEY-INSPIRED CLOTHING LINE
LOS ANGELES, CA - (Monday, December 2, 2019) -- Today, Anthrax - Platinum-selling, multi-Grammy-nominated, card-carrying member of The Big Four - announces a new alliance with PUCK HCKY, the Michigan-based, premium hockey apparel brand. Beginning immediately, PUCK HCKY is making available a series of high-quality, small batch hockey jerseys and streetwear that pull visual inspiration from the band's rich catalogue of album, EP, single, and t-shirt artwork, including Anthrax's instantly-recognizable logo and its long-time mascot, "Not-Man."
"We're huge fans of Anthrax so we reached out to their manager to propose a collaboration celebrating this iconic group that reflects our other passion, HOCKEY," said Matt Marini, PUCK HCKY's CEO. "We worked closely with the band's Scott Ian, as well as Charlie Benante, who is personally involved with all of Anthrax's visual imaging, to fashion five-star, hockey-themed merchandise for its fans. One of our collaborating artists, Jon Gregory (of Garbage Pail Kids artwork fame), created a sick goalie mask design incorporating instantly-recognizable Anthrax visuals."
For this series of Anthrax jerseys, PUCK HCKY started with its pro-weight hockey jerseys, incorporating four different Anthrax designs, and finished them with customized detailing, such as embroidered patches and custom-made logo hem tags. Currently, there are hockey jerseys, hoodies, flannels, 3/4 sleeve raglan baseball shirts, and t-shirts featuring four different Anthrax designs available on PUCK HCKY's website, with plans to introduce additional designs and apparel.
"On behalf of Anthrax," said Benante, "I can honestly say that we are so excited to be joining forces with PUCK HCKY. The clothing is next level, and the designs are a sports and music fans' dream."
​
(Go HERE for images of the collection.)
​
*****
ABOUT ANTHRAX:
Over its nearly four-decade career, Anthrax has been a pioneering band with its unique style, sound and heavy brand of thrash metal, and, as Metallica's Kirk Hammett put it, "one can hear their influence on any number of up and coming bands." Anthrax has sold in excess of 10-million units, received multiple Gold and Platinum certifications, six Grammy nominations and a host of other accolades from the media, industry and fans, including 2016's inaugural "Innovator Award" presented at the Epiphone/Revolver Music Awards. From the race and genre barriers Anthrax helped break down in 1988 when they collaborated with Public Enemy on "Bring The Noise," to becoming a card-carrying member of The Big Four - with Metallica, Slayer and Megadeth - as one of the four bands that defined the speed/thrash metal genre, to being the first metal band to have its music heard on Mars when NASA played "Got The Time" to wake up the Mars Rover, Anthrax continues to break ground and innovate.
The band's last album, 2016's For All Kings, debuted at #1 on Billboard's Hard Rock Charts, and #9 on the Top 200, becoming Anthrax's highest-charting album in more than two decades. The band - Joey Belladonna/vocals, Scott Ian/rhythm guitar, Frank Bello/bass, Charlie Benante/drums, and Jonathan Donais/lead guitar, will release a new album in 2020.
ABOUT PUCK HCKY:
Launched in 2015, PUCK HCKY has gained the reputation as the go-to hockey apparel brand with a unique knack for meshing various elements of popular culture with the great sport of hockey. PUCK HCKY brings gritty attitude to the game and to hockey streetwear through numerous collaborations with iconic personalities and many awesome musicians and bands. PUCK HCKY's current roster includes: Meshuggah, Overkill, Exodus, Cannibal Corpse, Testament, Opeth, Making Coco (the Grant Fuhr story), Adult Swim's animated television series, Mr. Pickles, and many more.